Dear Members and Fellow Investors
Following hot on the heels of our successful re-purchase of Medica Group we are once again in the position to make a buy investment. In this poll there are three choices (in alphabetical order):
ITV
Pure Gold Mining
Rathbone Brothers
ITV [ITV]
- Brexit has hit ITV shares hard
- ITV has lost advertising revenue due to Brexit
- ITV own exceptional Intellectual Property rights that are both unique and profitable
- We currently have a holding of ITV
- The opportunity to double up and in the process average out
- There is still a possibility, even in the current market, for a takeover bid. For example Greene King has just had a takeover bid
Source: AAAlphaThunder @imutual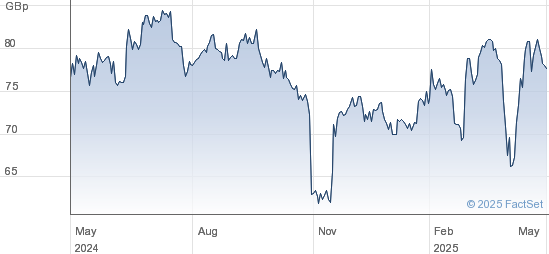 https://www.hl.co.uk/shares/shares-sear ... dinary-10p
Pure Gold Mining [PUR]
Sunday share tips

18 Aug, 2019 17:40

Over in the Mail on Sunday, Joanne Hart was looking at the market's oldest safe haven asset - gold - given the increasing fears of a global recession, and the face the price of the sparkly stuff had risen 20% this year alone.

She said such a situation did not just benefit investors with a few bars of 24-carat under their mattress, but also gold mining companies, with the bounce in interest for the metal coming at an ideal time for Pure Gold Mining.

The Canada-based, London listed company recently secured $90m in funding from its countryman Sprott, which specialises in financing small miners.

That cash injection was described by Hart as a "ringing endorsement" of Pure Gold's project at Madsen Red Lake in the eastern province of Ontario.

Construction there had now begun, with the company expecting production to start by the end of 2020 and to be spitting out 100,000 ounces per annum by 2022 - a speed that Hart said was "unusual", but was explained by the fact that Madsen Red Lake is an existing, mothballed mine.

It was shuttered when the previous owners were facing financial challenges, with Pure Gold snapping it up at a hefty discount.

The project had a number of points in its favour, with Ontario's long history as a mining province providing a decent pool of skilled, local labour, and Madsen's status as a mothballed mine meaning much of the infrastructure - including the processing plant - was already in place.

Permits were also already there, with the company also reaching an agreement with local indigenous groups to help the project move forward smoothly.

Hart described the rock as "unusually rich" as well, explaining that it yielded eight grams of gold per tonne of rock, compared with one to two grams in many other mines.

"The mine exists, the money is there to build it and the company is run by highly experienced industry veterans," Joanne Hart wrote.

"The group also counts mining giants AngloGold Ashanti and Newmont Goldcorp as shareholders.

"The shares are 41p and should go higher as Pure Gold moves towards production. Buy."
Source:
https://www.sharecast.com/news/tips-rou ... 47668.html https://www.hl.co.uk/shares/shares-sear ... ng-inc-npv
Rathbone Brothers [RAT]
Sunday share tips

18 Aug, 2019 17:40

In her 'Inside the City' column for the Sunday Times, Emma Dunkley was looking at wealth management firm Rathbone Brothers, describing the £1.2bn company as a "marauding hunter" in a sector increasingly divided between hunters and prey.

She said the company - which began life as a Liverpool timber merchant in 1742 - was "on the prowl" for deals, having stalked Smith & Williamson a couple of years back, before talks broke down in 2017.

Last year, it gobbled up one of Scotland's largest independent wealth managers Speirs & Jeffrey, adding £6.7bn in assets and almost 40 investment professionals to its team.

However, Dunkley described the need to remain on the hunt for other targets was "pressing", given Rathbone's discretionary wealth management arm was a mature business, making new organic growth hard to find with net fund outflows totalling £100m in the first half.

Profit margins were healthy, at the upper end of the industry, but that meant there wasn't much room to manoeuvre, she wrote.

Indeed, the wealth management space had become quite crowded, with Rathbone's rivals including the likes of Brewin Dolphin, Brooks Macdonald and Charles Stanley.

Investors were more reticent to take risks with their cash in such an uncertain geopolitical and economic climate, and fees remained under constant pressure from the likes of cheap index-tracking funds.

Dunkley did note that Rathbone's smaller unit trust business was seeing more rapid growth, with funds under management there ahead 11.7% in the first half.

But that division only accounted for £4.5m of profits, compared to the £42.2m the discretionary wealth management unit's £42.2m.

The two divisions combined, however, did boast a record £49.2bn in funds under management at the end of June, Dunkley noted.

She said the company was well-placed for more acquisitions under its new management team, pointing to new finance chief Jennifer Mathias from EFG Private Bank as an appointment that was met with wide approval from analysts.

The market was eagerly awaiting a "strategy refresh" from that new management team, which also included new chief executive Paul Stockton, who was elevated from the finance director position in May.

Shore Capital analysts had recently said that would need to deliver a "credible" plan in order to "re-stimulate" organic growth.

"The shares are at £21.70, down a tenth over the past year, with a dividend yield of 3%," said Emma Dunkley.

"Rathbones may be one of the predators, but questions hang over growth prospects as Brexit bites. Hold."
Source:
https://www.sharecast.com/news/tips-rou ... 47668.html
https://www.hl.co.uk/shares/shares-sear ... rdinary-5p
As always there is an option for none of the above.
I propose we put our money - hard earned - hard cash - to good use as soon as possible.
Note:
Please vote as soon as you can.
The poll will last seven days (unless a consensus is reached before).
You can change your vote.
Happy investing
Kind Regards
AAAlphaThunder (pronounced "Triple-A Alpha Thunder")
[Secretary] imutual Cashback Investment Club